Having tough time selecting the best cookware set for your meal? With the ever increasing number of cookware brands daily, picking the best set of cookware has really been a challenge. And also increase in different types of pans such as stainless steel, ceramic, cast iron, aluminum and copper has made picking a desired set of cooking utensils tough as you need to know the function of each before diving to get one for your home.
You should know that serving healthy meals to your family daily depends on the type of cooking set you choose for your home. That's why before making a final decision on getting your kitchen gadgets, you should be able to decide on the type of cooking sets, consider how much time you spend cooking, expertise in the kitchen and above all your budget as this is a personal decision.
Do not be discourage as we've gathered the best set of cookware's that will serve you and your family healthy meals. Go through the list and reviews below as we've took time to analyze in details each of this pans for your easy pick.
KitchenAid Aluminum Nonstick 12-Piece Cookware Set
This is a top notch kitchenAid with the ability to satisfy you in your cooking adventure. It is absolutely unimaginable when it comes to preparing meal with Aluminum Nonstick 12-Piece Cookware Sets as it reduced your cooking time as compared to other pans; and offer your family a 100% healthy meal. This set of KitchenAid product are quite unique and kitchen friendly as it is easy to clean after each meal, leaving the pans neat and spotless.
You cannot beat the quality of this product as it offers a whole lot of quality services to any form of meal you wish to prepare; ranging from the biggest to the smallest pan. This cookware set can be used to prepare pasta, steam tomatoes, meat, vegetables, frying eggs etc. without sticking to the pan which makes it easier to clean after cooking. It works just like pressure cooker as it traps heat within the pot not allowing nutrients lost.
Features of KitchenAid Aluminum Nonstick 12-Piece Cookware Set:
Better wrapping of handles with silicone and quality stainless steel, which makes them safer to use.
Quality glass lid which helps you monitor your cooking without having to open the lid to avoid nutrients lost.
It includes: 1 Qt. and 2 Qt. Covered Saucepans, 4 Qt. Covered Saucepot, 6 Qt. Covered Stockpot, 3 Qt. Covered Saute, 8-inch and 9-1/2-inchSkillets.
Stain resistant and easy to clean; Heavy gauge construction heats up quickly and evenly, reducing "hot spots" that can burn foods.
Understanding your kitchenaid cookware and following the instructions keeps your pan alive for long; don't forget this "Take care of them and they'll take care of you". This is one of the "COOKWARE SET" you can't afford to miss because it's sturdy with a high level performance and fits well to your kitchen.
T-fal C798SC64 Ultimate Stainless Steel Copper-Bottom Multi-Layer Base 12-Piece Cookware Set, Silver
There are not just beautiful but work like a charm in your kitchen! The copper bottom is well designed with multiple metal layers to hold up the temperature just fine for your everyday meal. Think about pot and pans that will not give you headache, then you better think about T-fall cookware because it is specifically designed to give solutions to all your cookware difficulties you've been having. Some people make mistakes of raising the temperature of their cooker so high for faster cooking and end up having their meal burnt and having their pans difficult to clean.
All you need is a medium heat to cook with, as the pot and pans heat up evenly, distributing the heat to all the part of your pot. You may wander about the handles, I tell you it does not get hot when you are cooking. Also, cleaning this ultimate copper cookware set is as easy as ABC; after cooking you can either soak your pot for a while so that when you are through with your meal you can easily wash it out to maintain it true color. But if the stain is a bit tough to clean you can apply Bar tender's Friend and scrub it tenderly or you can also use a scouring pad to remove the tough marks.
Features of T-fal C798SC64 Ultimate Stainless Steel Copper-Bottom Multi-Layer Base 12-Piece Cookware Set, Silver:
Riveted stainless steel handle
8- and 10-1/2-inch sauté pan; 1.1-, 2.2-, and 3.2-quart covered saucepan, 5-1/2-quart covered Dutch oven, spoon, and slotted turner
Copper bottom for evenly distribution of heat
Standard glass lid which helps in holding up nutrients and moisture for better cooking
What else can I say about this wonderful cookware set, I think it will be better off you take a view so that you will have your own testimony to share.
Anolon Nouvelle Copper Stainless Steel 10-Piece Cookware Set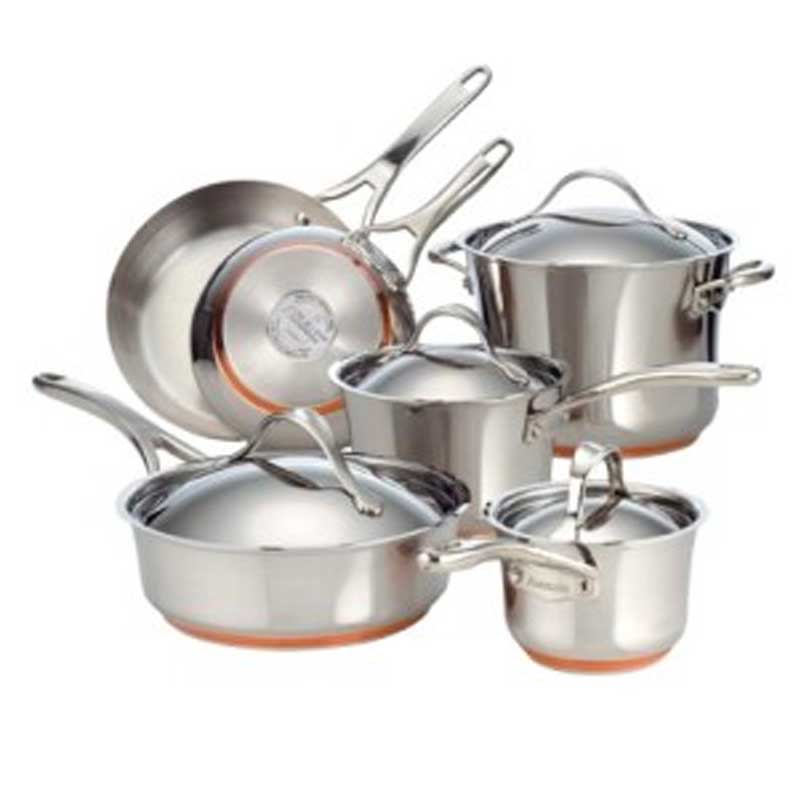 Having your family happy always depend on so many things and one of such thing is the regular habit of presenting to your family a delicious meal prepared with a unique cookware set daily. Copper stainless steel does not only stand out among so many other stainless steel but it prove its durability, ability to hold heat for a long time, unique shape, with copper bottom for evenly distribution of heat. This cookware requires a pre-heating because of the thick bottom (to warm the pot), then you can put your oil or butter and allow it to spread before you begin your cooking proper. By doing this prevent your meal from sticking to the pot while cooking. All your recipe have it way of coming out perfect and nutritious when u are cooking with Anolon Nouvelle Copper Stainless Steel. Any stain that does not come out with normal cleaning, Bar Keeper Friend can be used to remove the stain without delay.
Features of Anolon Nouvelle Copper Stainless Steel 10-piece cookware set:
Dual riveted handles which fit the hand
Works well on all stovetops including induction and dishwasher safe
It Includes: 125-quart,covered saucepan, 25-quart,covered saucepan, 65-quart,covered stockpot, 8-inch french skillet, 105-inch french skillet, 3-quart,covered saute
The copper bottom enhance perfect heat distribution
Switch to a less stress free life while in kitchen by having this wonderful set of unique cooking gadgets to safe you better at all times.