For busy family, food processor is one of the most used appliance which save time and get things ready ASAP. Making your best smoothie and lot of other juicing go very fast with your food processing machine. This appliance have been a time server in many homes as it could do the work of grating, chopping, shredding and slicing at in seconds. There are built to run electrically and manually for all day, with super engines ranging from 600-Watt portable models, to 1200-Watt depending on your need.
Should in case you've been feeling frustrating about picking the processing machine, we are here to help and set you on the right path. Go through each reviews and products on this page carefully as we've selected sturdy and top notch kitchen friendly blender machines to aid in your kitchen activities.
Ninja Master Prep Professional Blender, Chopper and Ice Crusher
As a friend will say! Chop like a real Ninja. Ninja Master Prep Pro is super and active when it involve processing food and drink maker because it combines the best features of a traditional blender, a food processor and a stick blender all in one device. Chopping with this gadget is just great as the blades are super sharp and when chopping the contents are pull down for even and perfect blending without stirring it manually. These unique kitchen gadgets comes with four pitchers or containers, the bigger container can be used to chop food for four people, and the medium can serve two people and finally two small pitchers. It also comes with shafts and blades that fit each of the pitcher perfectly well; the shaft for the large pitcher have three blades, and the medium pitcher have two blades while the smaller pitcher have a single blade.
Operating this gadget is very easy as you'll need to put the shaft into its own fitted pitcher (container), add ingredients and put its special lid over it, put the motor on top and press down. And by doing that, the multiple blades will chop the ingredients very well even bring up the once at the bottom so as to chop all evenly. Your Ninja Master Prep Pro is easy to clean and does not stick. It is advisable to rinse it immediately after use just like your cookware set to avoid the stains becoming tough to remove.
Features of Ninja Master Prep Professional Blender, Chopper and Ice Crusher
Comes with 2 Master Prep Bowls (16 oz.)
1 Master Prep Advantage Bowl (40 oz.)
Interchangeable master pod
Super sharp blades
1 Master Prep Pitcher (48 oz.) 450 Watts
Check out some of the things you can used this gadgets to achieve
Crushes ice to snow in seconds
Blend or crush peppers for seasonings
Blend frozen fruits into creamy smoothies
mix cake batter
broccoli and spinach
slice your veggie evenly
Proctor Silex 72500RY 1-1/2-Cup Food Chopper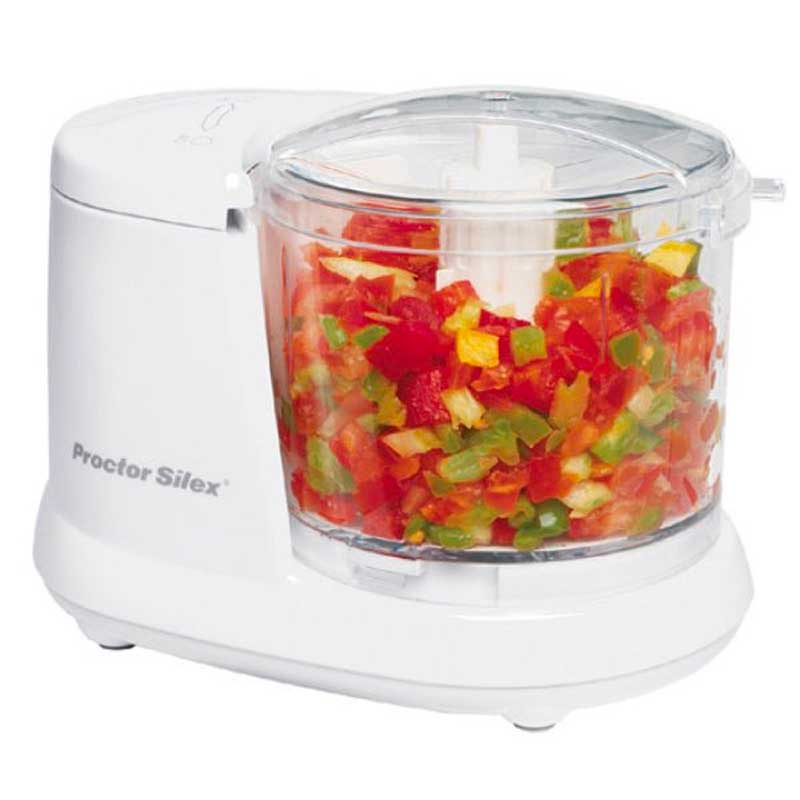 This is a handy little appliance which should not lack in your countertop as it is very useful in everyday kitchen activities. It's really incredible in chopping, though it does not hold much but it perform an excellent work in vegetables chopping, onions, pepper, carrot among other perishables and herbs; also it can be used in preparing baby meal because of its ability to blend well. It works just fine as it does not occupy your countertop space and the stainless blade is ever ready to chop. It's easy to disassemble and rinse off or dishwasher safe can handle it just well. The base is stable and balance to for your chopping experience.
Features of Proctor Silex 72500RY 1-1/2-Cup Food Chopper
1-1/2-cup-capacity transparent work bowl; stable base
It is dishwasher safe
Measures approximately 8 by 5 by 4 inches
Stainless steel blade
It reduces preparation time in kitchen
It is design with a modern look that matches your kitchen decor and it suit small family or a bachelor better.
Related Posts